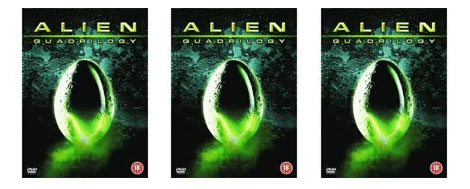 When did DVD box sets become so cheap? Play are selling the iconic Alien Quadrilogy DVD box set for just £7.99.
Until the young Ben 10 Alien fans are old enough to dip their toes into these epics that are the Alien movies, they'll have to stay safely tucked away just for the grown-up Alien fans to watch.
If you've got an adult sci-fi nut in your family then this Alien Quadrilogy DVD box set is bound to have them jumping up and down with space geek and alien goo delight.
I think I've only ever seen a couple of the Alien films; definitely the first one and I'm not sure if I've seen another one or just clips of various of them.
They aren't really my cup of tea I must confess but I can appreciate the impact they had on the sci-fi movie industry.
Eight DVDs make up this Alien Quadrilogy DVD box set and contain a ton of extra features, if you like watching all those commentary, director's cut and never-before-seen bits and pieces.
In case you're not sure whether it's going to be good enough for your Alien movie fan, here's what one reviewer has to say about it...
"This is the best box set ever put together and is well worth your hard earned cash.
Each film has two versions the theatrical and an extended version of each film and the bonus discs that occumpany the films are amzing going deep into the production, story and Post Production the main people behind each film tell you their stories."
Enough said then.
Thanks to Shy1Guy at HUKD