3rd & Bird A Very Squooky Christmas 99p @ Bee.com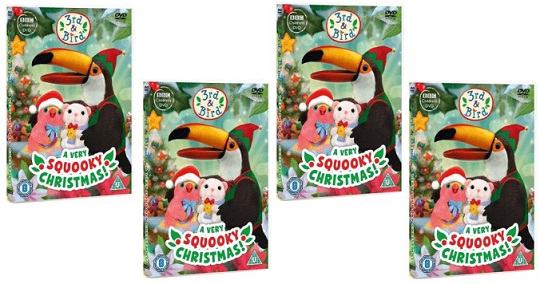 3rd & Bird is a very lovely little program on Cbeebies, It is a sort of animated show with lots of singing. I can't really describe it better than that! It was popular with me at least when my son was younger as one of the birds is a kiwi. See, that's what a kiwi is - a bird not a fruit! This 3rd & Bird A Very Squooky Christmas is 99p including delivery at Bee.com
What a great stocking filler this will be. There were plenty in stock when I checked, but I'd guess they'll see out fast. There are other titles on there in the same price range and some have already gone out of stock.
Delivery is free across the site, and there are gifts on there for grownups with prices starting at £1.49.
With this DVD you get a double-length Christmas-themed episode. It also contains eight  episodes:
A Very Squooky Christmas
Ice Skating
Samuel's Dance
Starry Night
The Amazing Muffin
Mariachi Muffin
Elliot the Budgie
Down To Earth
Special features on the DVD include Mr Beakman does the 'Toucan Twist', Birds and Trains exclusive video clip, and Listen to 3rd & Bird - an Audiobooks clip.
Thanks to cazzap06 at HUKD!