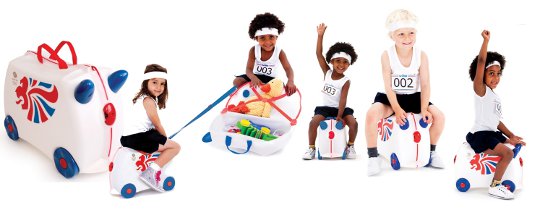 There's £18 off the 2012 Team GB Trunki at Play.com at the moment. Normally retailing at a whopping £39.99, it's now just £21.99.
I'm actually not all that sure what I think of this. To be  honest, I'm so crowd-o-phobic, (yes, I know there's an actual term for it, and I know the actual term is agoraphobia, but I'm not actually agoraphobic, I just don't like crowds, so… crowd-o-phobic) that I have every intention of not leaving the house for the duration of the Olympics. I know I'm pretty alone in that view, however, so for the rest of you, this could be a fantastic fun, useful and practical memento from the 2012 London Olympics.
I think we all know Trunki by now – they're designed to be used as hand luggage kids can both pack for trips and ride on when you're waiting in the inevitable queues.
This one also comes with a sticker pack so your little one can add that personal touch to it – which can make a great activity on your first trip, so don't be in too much of a hurry to give it to them before you take off!
Thanks to katachick at HUKD