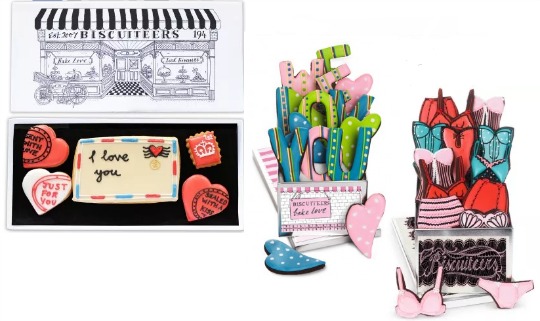 Buying Valentine's Day presents can be a tricky one, and although we tend to really love who we are buying for, we sometimes don't wish to show it too much. That's why something quirky or something a bit tongue in cheek can be a good option. My other half wants Molton Brown Shower Gel but that is boring and I will be ordering him one of these funky Biscuit sets from Biscuiteers. Their Valentine's Collection is a real talking point and starts from only £6, use promo code LOVEDELIVERED at the checkout to benefit from FREE 2-3 Day Delivery.
I must admit I am a fan of all things quirky and if you have been with someone for many years chances are you have exhausted all the conventional Valentine's present ideas. Why not grab a fancy biscuit set from Biscuiteers using that code for Valentine's Day?
For Men: Personalised Valentine's Love Letter Giant Biscuit Card* £22.50 delivered with code, Hot Pants Valentine's Mini Collection*£30 delivered with code and Valentine's Biscuit Greetings Card*£9 delivered.
For the ladies: We Love You Biscuit Tin*£38.50 delivered, Romeo Jolly ginger* £6 delivered with code and Ultimate Boyfriend Jolly Ginger*£6 delivered with code.