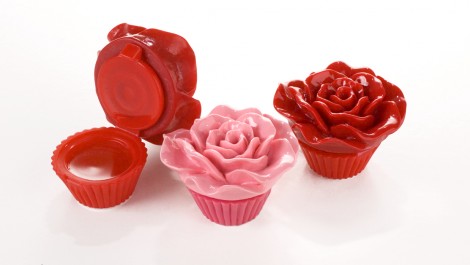 If you're looking for a delightful little something to get your partner on Mother's Day then these little lip glosses from the Lip Gloss Company are a good place to start. Designed like little roses in pink or red, they pop open to reveal a little pool of lush gloss inside. 
The Rosey Lips lip glosses are a good size, they fit neatly into coat pockets, handbags and even small evening purses. Personally, I think that the design makes it far easier to find them when you're scuffling through a handbag in a rush, but some may find them a little bulkier than the standard tube. 
The gloss itself adds a really nice sheen to your lips and tastes rather yummy. I found that these added that little extra to bare lips when the mood isn't quite right for slapping on lipstick. The gloss itself lasts for quite a while and isn't too sticky. It doesn't have that horrible "glued lips" residue that some brands do. 
I did find that the pots were a bit difficult to open initially. At one point I managed to turn mine into a deadly missile as it shot out of my hands and into the wall. However, the neat design and total cuteness make that a forgivable flaw in a lovely gloss. The quantity of gloss looks really small but I've been using my pot solidly for a week now and it doesn't appear to have dented the supply – perhaps it's a Tardis in there... 
I have to say that I like these guys. I like the unique design and the light colour the actual gloss adds to your lips. They're a nifty extra to add into your Mother's Day gift pack (or for you to buy as a treat for yourself, mum) and really don't cost the Earth.