Half Price Valentine's Gifts @ Morrisons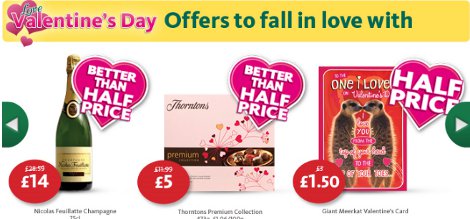 I'm all about the expression of love on a budget at the moment, it seems, and here are some better than half prince or half price Valentine's gifts from Morrisons.
If you're anything like some people I know, you've not yet done anything for Valentine's day. Fortunately Morrison's have a few items you might find useful. Their gifts are divided into Gifts for Him, Gifts for Her, and some lovely Bouquets. Not all items are on sale, but all are still pretty well priced.
Under 'Gifts for Him' you'll find a giant Meerkat Valentine's card, (half price at £1.50), - it's cute, but not sickly sweet - two heart Valentine's Crackers containing fridge magnets and a 'fun' dice game (£3), and if your man's a big softy, a cute little 'I love you Monkey'. (£3)
If you're shopping for Her a bottle of (my absolutely favourite, in case you wanted to know) Nicolas Feuilatte Champagne is better than half price at £14, instead of £28.59. A ladies cami & knicker set in sizes 8 – 20 are £10, which is full price, but still pretty good value. Thornton's Premium Collection are an indulgent pleasure of milk, dark and white chocolates are down to £5 instead of £11.99.
There are twelve boquets to choose from, with the Grand Gala Rose Bouquet at £7.50 instead of £15. If your partner isn't into roses there are others, including the From the Heart Bouquet with a mix of red calypsos, exotic greenery and oriental lillies for £10. If you're really on a budget, there are two £5 bouquets and a single rose will cost you just £2.
And in the end, it's really more about the token of love than the gift, so just enjoy your loved one and have a wonderful day.