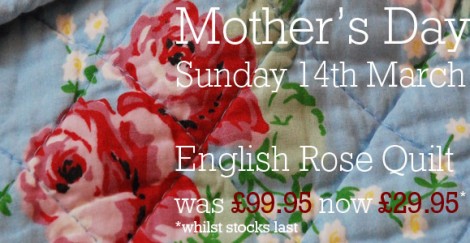 If there's a mother in your life worthy of a gift, or if you're a Mama yourself and feel the need to drop some helpful pressie hints to your nearest and dearest then look no further.
Usually a rather pricy £99.95 you can now save 70% on this cosy quilted throw at the lovely dotcomgiftshop, just in time for Mother's Day. And if roses don't float your Mum's boat then do not fret as they have heaps of other lovely treats especially for Mums

.
I laughed out loud when I first saw this mug warmer but now I want one! I'm not sure what it is about motherhood that means you only ever get round to drinking a cup of tea when it's luke warm or stone cold but this little piece of knitted magic will put a stop to that for the mere price of £3.95. Brilliant. Making your Mum a cuppa will always bring a smile to her face, but we bet she'll love you for this.

Alternatively what about breakfast in bed on Mother's Day, with heart-shaped fried eggs? This cute pink frying pan represents eggcelent value at £4.95.
Or for those Mums who love a bit of chocolate, how about six chocolate-scented heart-shaped tealight candles in a classy wooden presentation box for £4.95?
I reckon any Mum would be pleased as punch with any one of these lovely treats and if you really want to spoil her, you could splash out on several little gifts and send her on a pressie-tastic treasure hunt around the house. Guaranteed to make any Mum feel special on her special day!