 If you're looking for something easy to make for Mothering Sunday, that Dad can do, older kids could do on their own, or you can do for the grannies, then look no further. This Meringue recipe is so easy, my three year old can - and did - do it. Okay, she helped. I had to redo the eggs after she broke the yolks, but still she had fun. For ingredients you need 2 egg whites, 100g castor sugar, and your choice of food colouring. In a subsequent batch I've also added half a teaspoon of vanilla essence, just to give it a little more flavour. Heat the oven to 110C

Separate the eggs (I save the egg yolks for fabulous home made mayonnaise) If you get yolk in the white, the eggs wont stiffen up.

Beat the egg whites till they are frothy and stand at peaks. 

When they are firm, add the castor sugar a tablespoon at a time, beating all the time. Add the vanilla essence. 

If you want white meringues, scoop out spoon fulls onto a greased tray. 

In the mixing bowl we added a drop of yellow, a drop of blue and a drop of red food colouring in three different areas and lightly mixed them gently in those areas. Then my toddler scooped from each area, onto the tray, sometimes getting a mix of colours and sometimes just a mix of white and blue or white and pink.

She scooped them onto the tray and we left them just like that. 

Put in the oven for 40 minutes 

If you want them chewy on the inside, you can take them out of the oven after about five minutes and leave them to cool. If you prefer them crunchy leave them in the still warm oven until it and they are cool.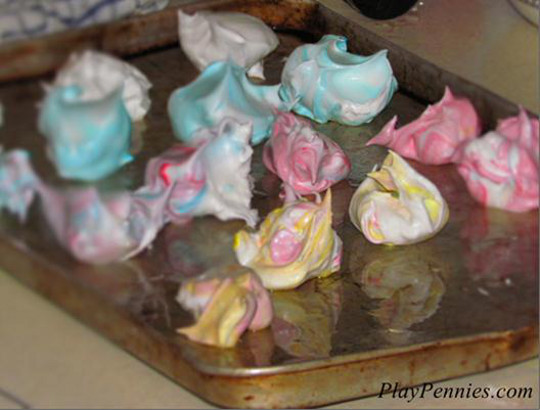 We then popped them in an over-sized cup wrapped some cellophane around it all, and that will be a mother's day gift for Nanna from her grandchildren.