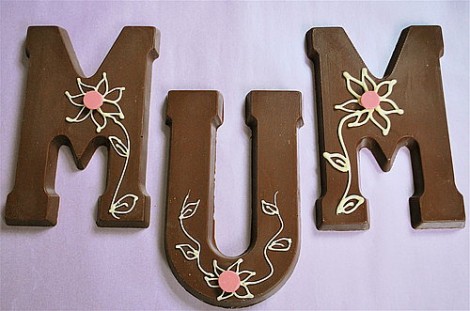 Mother's Day is on the horizon, a delicious day of relaxing, pampering and being adored for all the hard work you put into raising a family. It's also a fabulous Get Out Of Diet Free card that means any chocolate you eat on 14 March 2010 DOES NOT COUNT! So why not hint at some divine chocolately gifts, and some fab extras, from Theletteroom.com?
Theletteroom.com don't just do chocolate, they also do leather keyring letters in a wide range of colours. These go for £6, look fab hanging from your handbag and are a lovely way to personalise your hunk of keys.

You can also nab yourself some stunning letter notebooks that are covered in fabric and filled with plain coloured pages. The notebooks all have different initials on the cover, so you can nab one perfect for your mum, and are about 10x10cm. These sell for £7 and that's an ace price for a Mother's Day gift
Finally, I have to rave about the chocolate letters from Theletteroom. These gigantic personalised letters contain 200g of solid chocolate and can be ordered in any letter of the alphabet you want. You can get them in white, milk and pink chocolate and you can even arrange for a message to be included. Each letter has pink and white hearts scattered over it, come in lush packaging and taste amazing.

I insisted that they send the mum panel a sample of the chocolate so we could be sure that for £9 you weren't buying a novelty idea with a horrible taste. You aren't.  The high cocoa content is apparent right from the outset and the chocolate is really creamy, dreamy. This is definitely a fabulous idea for any chocoholic mum. And I can assure you that all our reviewers agreed on this point!
So, for those of you that live far from mum or who want to give something a little different this year, then these gifts are a total winner. You also get free deliveries on all orders over £30 – a perfect excuse to get yourself one, and your grandmum, and one for luck...