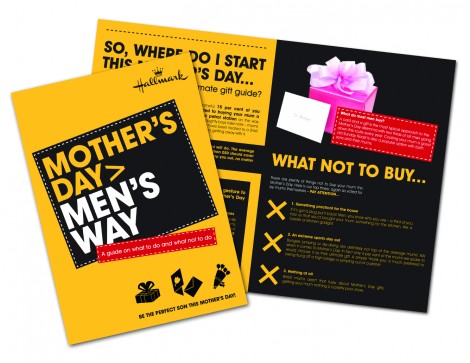 We've all heard the horror stories. The ones that come with a screeching soundtrack and gasping and a scream in the background. You know, the stories about how women unwrapped their Mother's Day presents only to discover a vacuum cleaner, or a blender, or (shudder) a set of pans. Well, this year Hallmark have produced a free Mother's Day Guide for Men. Yes, menfolk, FREE. So now you have no excuse.
Look, I'm not saying that all men are rubbish at finding gifts for their mums, this is patently not true, however there is nothing wrong with a little bit of celeb help every now and again. Laurence Llewelyn-Bowen (say that six times really fast!) has teamed up with Hallmark to create the ultimate men's manual.
Hallmark did a survey as a part of their Cards for a Cure campaign and the results were surprising. Apparently 17 percent of men thought that they could get away with petrol station flowers, 16 percent thought buying mum an ironing board was a winner and 19 percent had completely forgotten about the day altogether.
Right, so it's time to roll your sleeves up boys. Get yourselves online and get yourselves educated. Let Laurence show you the way towards a brighter Mother's Day for your mum. Don't let her down in 2010 and bring a huge smile to her face instead.
Well done Hallmark!