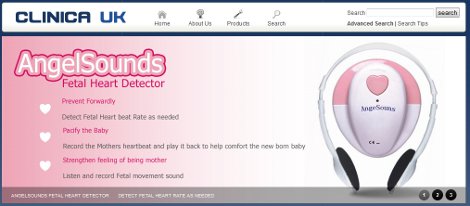 There's 10% off at the entire range at Clinica UK, exclusively for PlayPennies readers.
Move your pharmacy online with 10% off
Discount: 10%
Valid on : Everything online
Valid till: 31st December 2011
Code: playpennies10
So, what do Clinica UK offer?
Well, there are maternity products, such as foetal heart monitors, tissue oil and a (non-labour, it seems) TENS machine for all those pregnancy aches and pains, including strengthening the pelvic floor.
There's also a range oflotions and potions from Clinica, including face wash, day cream, vitamin E cream and the aforementioned  tissue oil.
While I don't imagine many of us needing 5 litres of ultrasound gel, there is a very useful breast aware self-test(andprostate screening, if that's more your thing.)
There's even a pretty good range of condoms, in case you don't want to need any foetal heart monitors, tissue oil or so on for a while ;)
And with the code only expiring in December, well, you're pretty set for family planning and pregnancy for the rest of the year, with 10% off.