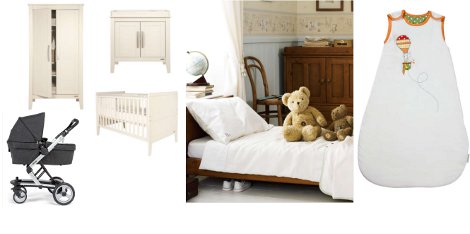 Well, as it says in the title, there's up to 50% off at Mamas and Papas on pushchairs, nursery furniture, nursery interiors and some baby and maternity clothing.
I really love Mamas and Papas, but can pretty much count on one hand the items I've bought  from them, because most of the time, they're out of my price range. However, right now, with up to 50% off I'm finding it hard to find reasons not to buy just a little something here and there.
While there are loads of offers in store, here are a few of the web exclusives I thought you might be interested in:
The Skate 3 in 1 - City Scapetravel system is half price, down from £675 to £337.50.While I'm not a buggy kind of mum, that does seem like a fairly good saving!
Similarly, the Madison Collection in Ivory White was £999 and is now £499 – a whopping saving on nursery furniture there.
The gorgeous Barnaby ButtonQuilt and Pillowcase Set which is normally an eye-watering £72 is now £36.
While some hate them for restricting the baby, my daughter is a kicker and her blankets never stay on, so when she was a baby, we loved ourbaby sleeping bags, and these are down to £15 from £30.
These are just a few of the web exclusives, but there are plenty more to check out.