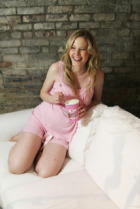 *** Contest closed ***
Here at PlayPennies we like to lavish you with all sorts of treats and indulgences, so how's this for a delicious deal?
Bella Mama, the online fashion boutique for discerning Mamas (and Mums-to-Be) which we recently reviewed, is offering an exclusive 10% discount to PlayPennies parents! Simply enter the Bella Mama promo code PPDISC10 at the checkout and you'll save a rather lovely 10% on all purchases. Never let it be said that we're not good to you!
On top of that, Bella Mama are also offering Play Pennies readers the exclusive chance to win a fantastic prize of £250 to spend on clothing at Bella Mama.
How to enter:
Subscribe to the PlayPennies email updates (1 entry)
Leave a comment in thread below stating why you'd love £250 to spend on clothes at Bella Mama (1 bonus entry)
Tweet a link to this contest and leave your twitter link below (1 bonus entry)
Rules:

Contest ends Monday 8th March 2010
Open to UK residents only
1 person per household may participate
Must do email verification when subscribing
Include valid email address if commenting
Admin's decision is final in all cases