Boppy is probably one of the most popular names in the feeding pillow industry. It has received the American Baby Best of the Year award 7 times in the last 8 years and costing anything from £30 to about £50 they're not cheap, but there is a large following of Boppy fans.
The Boppy pillow is a donut shaped ring cushion, suitable for breast or bottle feeding. It is quite small so can easily sit on the mother's lap and is meant to adjust to pretty much anyone's size to fit around them. I didn't find it very comfortable around me, it squashed a bit and makes me feel restrictred, but it was fine on my lap.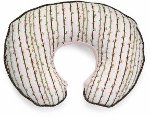 It is a really firm cushion, so there's no sinking away into the pillow and it provides quite a lot of support for mum and baby. It's also not a risk to baby as baby doesn't melt into it, so to speak – although you're still not recommended to use it as a baby pillow, or in a crib and so on.
A friend who has a caesarean section uses a Boppy pillow and she loves it for protecting her scar, especially when her toddler tries to get in on the cuddles after a feed. Then she doesn't have to worry about distancing herself from the toddler in fear of her scar being bounced against.The pillow comes in a plastic bag with a zip which is fantastic for keeping it clean when you're travelling, or when it's not in use or in storage.  It has a removable cover which is zipped and covered with a flap of material, so as to not snag or be uncomfortable on the skin.  I'd say it would be useful to have a second cover so that when you have milk spills, spit up, exploded nappies or just want to wash the pillow your baby spends hours a day on, you don't have to wait for it to wash and dry. Unfortunately you have to buy it separately, but it costs a lot less than the actual Boppy so it's definitely worth having a backup cover.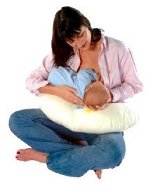 I think the packaging also makes it a nice gift. I know that sounds odd, but rather than 'just a pillow', somehow having a bag to keep the pillow in makes it a nice gift. But it's true. I'd be thrilled to receive one as a new baby or baby shower gift.
I've also heard, ahem, that the Boppy is really useful for the large breasted as the pillow can hold baby while you hold your breast, making feeding easier.
Later on, when the baby is a little older and able to sit up, the pillow is a great size for them to sit in the middle of as it provides support for keeping them upright.
I like the design of the pillow cover too. The one I was sent – Wild Flower – is strikingly pink, which is something I don't ordinarily like, but really like in this pillow. It is a bright and colourful cover with a  bold pattern and there are plenty of other cover options too.
The Good
It's machine washable and has a removable cover
You can buy separate covers for it, or additional covers to rotate
It is a firm pillow, ideal for supporting a baby with no risk of baby 'sinking in' to the pillow.
There's a good variety of covers to choose from
It's a great lap cushion, and perfect for breastfeeding, especially with a newborn
The Bad
The Boppy is quite an expensive pillow
It's supposed to fit around your waist to support baby against your body, but you'd have to be pretty small to find it comfortable
The Verdict
It's hard to say which of the pillows on the market made for supporting the feeding of babies is the best, because it will depend pretty exclusively on your experience of using them and I'm guessing everyone has their own preferences. Personally, I quite like the fact that the Boppy sits on my lap and doesn't take up half my sofa.  I also like that it is firm, and remains firm and I haven't had any problems with it becoming floppy thus far. Overall, it's a neater feeding pillow than others I've used but is exclusively good for nursing/bottlefeeding - as compared to others which are good for maternity or comfy seating too.