LEGO Star Wars Cad Bane's Speeder £34.99 @ Argos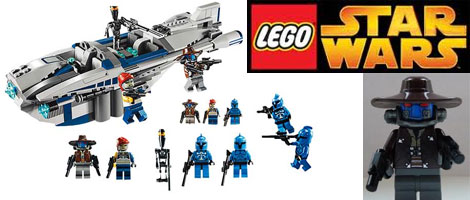 Argos have reduced the price of this LEGO Star Wars Cad Bane's Speeder from £49.99 down to £34.99.
If you read my posts often then you'll know that my youngest is a rabid Lego Star Wars fan and I have to ask, "HOW much Lego Star Wars can one person possibly need?!"
His answer made me laugh, "A LOT mummy and I don't have enough yet!"
The thing with anything Lego Star Wars is that it's not cheap!  Mind you, it seems that can be said for most things that kids want to play with - I guess it's our own fault for accepting the price tags and buying all of this stuff.
However, I'm more inclined to swallow the cost of Lego Star Wars things because...I like playing with it too!
The original Star Wars Trilogy would be part of my Desert Island DVD collection and perhaps some BIG Lego Star Wars pieces to while away the long sundrenched hours spent on an isolated tropical beach....
OK, back to reality!
Cad Bane is a Bounty Hunter from the Prequel days (for those not in the know) and with this Lego Star Wars Cad Bane's Speeder set you not only get all the necessary bits and pieces to build it, but also five mini figures including Cad Bane, Pirate Shahan Alama, Senate Commando, Senate Commando Officer and Elite Assassin Droid.
Thanks to galaia2004 over at HUKD!