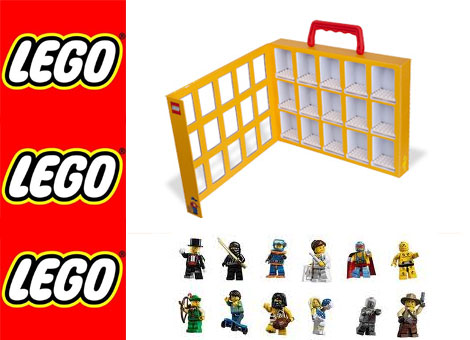 For once Lego are selling something cheaper than everyone else! Amazing, I know, but they're selling this Lego Minifigure Box for £9.99 - the next cheapest price I could find for it was £17.85 over at Amazon.
This Lego Minifigure box could just save your sanity and encourage your little Lego fan to sort out their Lego and keep it tidy - yes I know it's a tall order but I like to try and be as optimistic as possible until all hope is definitely lost.
My youngest has an obscene amount of Lego at his dad's house; I spend a lot of time rifling around in the huge plastic storage box that they keep it all in looking for various Lego minifigures or, more often, BITS of minifigures like Cad Bane's head or Anakin Skywalker's body.
He really could do with a Lego Minifigure Box, or two, to keep them all in.
The Lego Minifigures box will hold 15 little Lego dudes and each little segment has a stud footplate to actually stand them up on, so they'll stay put once they're in there.
Delivery is £3.95 and the reviews are great...
"I had been looking something for my sons lego figures and this is just perfect. He just loves it.
It is a lot stronger than I imagined it would be and would certainly buy it again. You can sometimes fit more than one figure into each space depending on the size of them.
The lego piece slides out for you to put the figures onto it and then it easily slides back in again. Highly recommend."
Thanks to summerjoo at HUKD