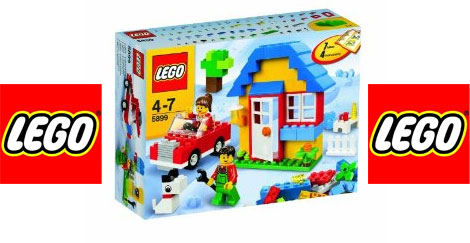 Amazon are selling this Lego House Building Set for £5.39 instead of £8.99.
I'm not sure why it should be so, but give anyone a pile of Lego bricks and you can, pretty much, guarantee they'll try and build a house.
I loved building Lego houses as a kid,  my most favourite part was putting the final roof tiles on and then adding trees to the garden base board thingy that the house was built on.
I'm not the only one; James May was on TV recently conducting an experiment to see if it was possible to build a full-size house completely from Lego.  The furniture didn't look very comfortable and there was no running water, but they did indeed manage to build a huge Lego house.
This Lego House building set has easy-to-follow instructions to guide you through creating a house with a tree and a car parked in the driveway; there's even a family dog and two a boy and girl minifigure.
It's got some nice reviews too...
"We bought this for our 4 yr old daughter to add to her relatively small lego collection and she just loves it. Building it is a bit beyond her for now but she's happy to find the right bricks for us to put together"
"There's a good mix of standard Lego bricks and specialist bricks to keep you entertained, reimagining and rebuilding. The initial build of the set has plenty of role play possibilities, with a solid (albeit slightly flat) house, garden furniture, cute dog (assembled out of bricks!) and a nice little car. The booklet also gives you ideas for another house and farmstead."
Thanks to shadow1 at HUKD