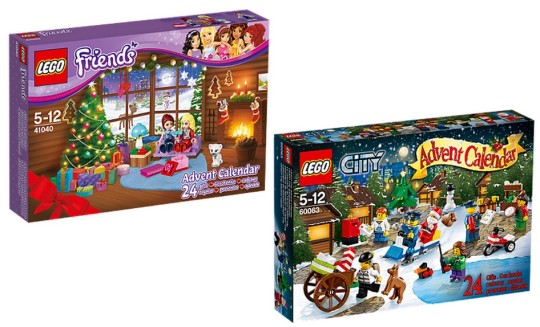 The LEGO City Advent Calendar has made an appearance a few times over the last few weeks, but not for under £15 yet, so it's great to see it at ASDA for this price. The LEGO Friends Advent Calender is the same price too, and collection from your local store is free.
The LEGO Friends set comes with Mia and Ewa mini-doll figures, and features 24 gifts each enclosed in it's own compartment in a LEGO Friends holiday-themed calendar. Each day opens a new compartment, counting down to Christmas with buildable gifts including a sled, deer, fireplace and a Christmas tree.
The LEGO City Advent Calendar includes 7 minifigures with assorted accessories: a boy, woman, girl, crook, 2 policemen and Santa, a mailbox, frog, snowman, cake stand with 2 cups and a pie, food stand with fruit and vegetables, window with decorations, wagon with a baguette, catapult with 3 snowballs, LEGO duck, dog with bone, police scooter with sled, dinner table with roast turkey, 2 glasses, bottle, 2 Christmas gifts and a tricycle and a host of other things.
They're great value for  money - especially at this price!