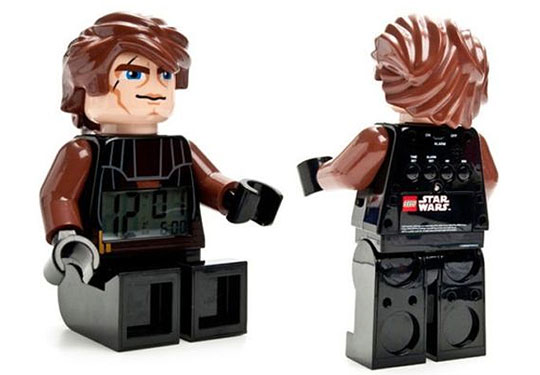 If you get yourself over to Zavvi on eBay, pronto, then you should be in plenty of time to pick up an Anakin Skywalker LEGO mini figure clock for £14.99; I bought a Darth Vadar one from Argos the other week and it cost me £19.99 (reduced from £24.99).
SO, my youngest is a huge LEGO Star Wars fan and I asked his dad whether a Darth Vadar or Stormtrooper one would be best. Darth Vadar was the answer, so Darth Vadar I dutifully bought.
They both dropped in on an impromptu visit the other day and my youngest, with his eyes like a hawk, SPOTTED LEGO Darth Vadar sitting in the kitchen - I'd forgotten to put it away and I've been BUSTED!
To make matters worse, he announced, "I don't like alarm clocks, I don't want it!" Poor Darth Vadar, absolute rejection; I'm glad I kept the receipt.
Your LEGO Star Wars Anakin Skywalker clock has a digital LCD display with backlight and an AM/PM indicator; there's the all-important snooze function too and come with the two AAA batteries he needs to operate.
I hope YOU have better luck with your LEGO Star Wars mini figure clock than I did; may the Force be with you!
Thanks to SeeBell at HUKD