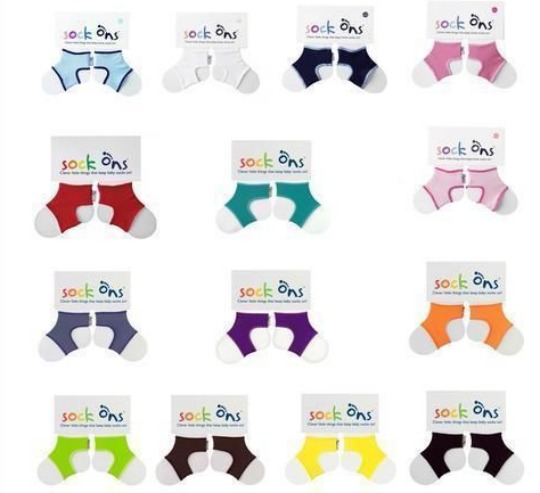 These may just be the best £2.37 you will spend on baby. Sock Ons are the savvy device to keep socks on little tootsies. Get yours over at eBay from reputable UK seller Little Poppets Co for only £2.37 including FREE delivery. You would normally find these selling for at least £3 elsewhere.
I am stocking up on these Sock Ons as I type. How frustrating is it having to constantly fix and find socks that fall off of baby feet? Daniel is the worst! It's nice buying fancy socks for baby, not so nice when losing them in the street is a daily occurance.
These Sock Ons slip over socks and make them near impossible for little nippers to yank off. They come in fourteen different colours and in two different sizes: 0-6 months and 6-12 months.
Come these colder winter months, babies really need to keep socks on. They have rubbish circulation as it is, so they need warmth around their feet, consistantly. These should prevent little, cold feet.
I can't wait to see the frustration on Daniel's face when he tries to pull off his socks with Sock Ons, on.
Thanks to Kimrb123 @ HUKD