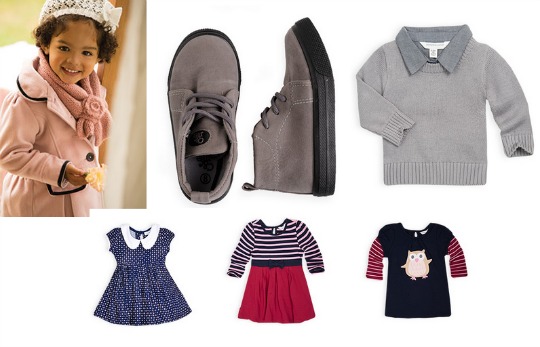 Pumpkin Patch nearly ALWAYS have a sale of some variety on, but this one will take some beating. You can get some very cheap children's clothing, when using Pumpkin Patch promo code UKMAT. This code will give you 25% off of sale items and 50% off any full price pieces, just simply pop it into the box at the checkout and your discount will be applied.
I have compiled an order together using some of the items on the picture above to show you how cheap you can get things for. Here it is: Baby Jumper with Mock Shirt* Was £21 Now £7.88, plus Boys' Suede Boot* Was £16 Now £7.50, plus Girls' Drop Waist Coat* Was £30 Now £11.25. Altogether using the promo code would cost £26.63 DELIVERED.
I am sure you will agree that is seriously impressive. Check out the baby girls' section, here* and the baby boys', here*.
Think of all the Christmas gifts you can stock pile with these amazing prices. If you are ordering for the festive season then I recommend ordering clothing items now, as I have seen me waiting ten to twelve days for a Pumpkin Patch delivery.