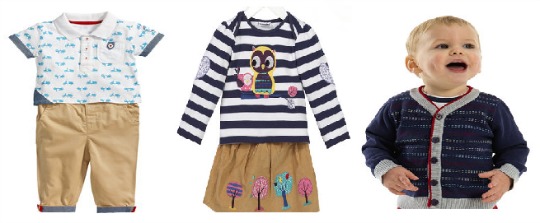 I have to admit I never ever think of going to Babies R Us when shopping for baby clothes. I guess that's a mistake on my part because I stumbled across this amazing price savings event at BRU and items start at only £1.96, to make things even sweeter, enter coupon code BIRTHDAY7 at the checkout and get a fiver off when you spend £30. There's a lot of gorgeous bits that will easily have you up to that £30 spend threshold.
Babies R Us actually have lovely clothing in this price savings event. Yes, there's some summer items that are getting sold off cheap but there's also plenty of outfits that will be more than suitable for this season. For example the Blue Stripe cardigan* is only £4.96 and is available in sizes newborn to 12-18 months. This is ideal for layering in the colder weather.
If you are a Winnie The Pooh fan then you have got to buy these absolutely heart melting, dress up romper outfits, available in Eeyore*, Piglet* and Pooh*. These were £9.99 but are now only £7.99. Why not buy all three?
Don't miss out, head on over to Babies R Us now and don't forget to use coupon code BIRTHDAY7 if you are spending £30 or more. Collect your order for free at your local BRU store or pay £4.95 (ouch) to have it delivered. Coleection is dependant on availability.
Head on over to our Vouchers section, where you will find coupon codes like BIRTHDAY7 and much more.