Three Piece Crawler Set £3 @ Marks and Spencer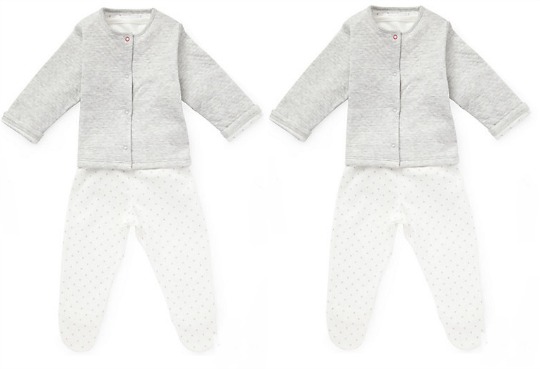 It can be so difficult buying a new baby gift, especially if you don't know the sex. You find hardly any unisex clothes in the shops and I think that's because a lot of people find out the gender at their 20 week scan. This lovely Three Piece Crawler Set from Marks and Spencer is just £3, yes that's right, £3, reduced from £12.
The Three Piece Crawler Set includes soft trousers with feet in, a long sleeved bodysuit and a fine quilted jacket. All for £3 remember, that a quid a piece. No-one will guess that's what you paid for it.
It comes in sizes Newborn and 1 Month, which is ideal for those new to the world, precious little bundles. The description says: "Integral scratch mitts up to 3-6 months" so that's great as those little nails can do some damage without.
It's all machine washable, thank goodness, you'd have no luck if it wasn't. Made from a cotton/polyester mix it should be nice and soft against precious skins.
You can Click and Collect the Three Piece Crawler Set for FREE from Marks and Spencer or pay £3.50 to have it delivered to your front door.