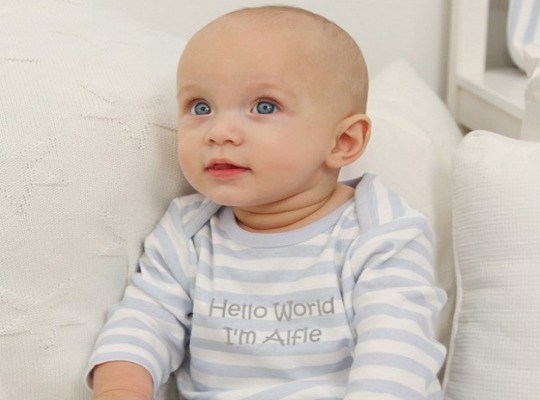 If you have got a baby with an unusually spelled name then this is the baby grow for you. The Hello World Personalised Stripe Baby Grow from My 1st Years is reduced from £20 to just £14. Use promo code HD10at the checkout and get an extra 10% off. That means that this lovely little piece of baby clothing will cost you only £12.60 plus £3 (£15.60 delivered). My 1st Years also send a FREE Luxury Gift Box with every order, so you don't have the expense of buying gift-wrap.
It's nice to keep a couple of baby's belongings as a keepsake and to remind you of how small and precious they once were. This Hello World Personalised Stripe Baby Grow would be ideal for that.
It is made from 100% cotton so shouldn't irritate soft, sensitive skin. Available in sizes 0-3 months, 3-6 months and 6-12 months. The colours on it are a very gentle blue and cream. It's aimed at baby boys but to me it's unisex.
I have actually bought a personalised baby grow for a friend of mine, from My 1st Years and I was over the moon with the quality. It wasn't this specific one, but similar.