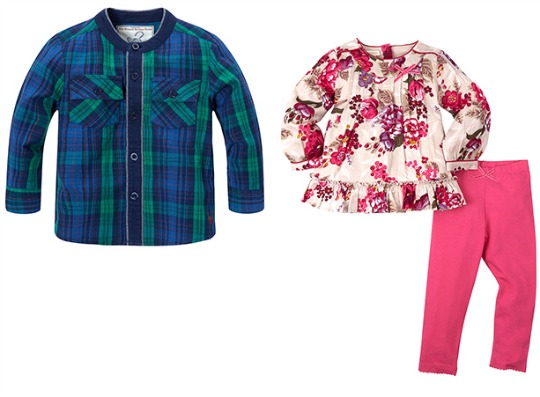 For me Monsoon is one of my favourite places to get clothes for the kids. The quality is super but I will never pay full price. If you didn't already know, Monsoon have an outlet section on their site containing 35 pages of Children's Clothing that is reduced to clear. Sizes are limited on certain styles but there are so many bargains to choose from and they start from just £1.05.
So what can you get for just £1.05? The Baby Embroidered Owl Bando* was £3.50 and is now £1.05. There's lots of nice accessories for little girls reduced and are a nice addition to a big present.
I won't lie to you, the boys selection is pretty pants, but it's still worth a swift look as you may get lucky. I like this Grandad Collar Checked Shirt* reduced from £14 to just £4.20. If you have a wedding this year then there's a couple of formal wear items in there too.
The girls' selection is amazing with it's glitzy dresses and pretty outfits. This Baby Roseberry Bloom Woven Set*is a bargain at only £11. It has been £22 originally.
Collect your order from a Monsoon store for FREE or pay £3.95 for delivery.