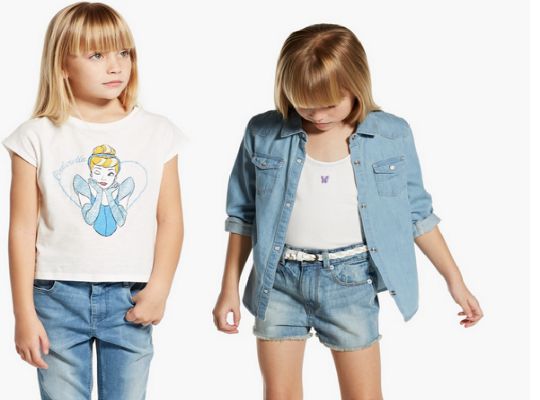 I often forget about Mango since my local store closed. To me, they are just like a more affordable Zara. You know that laid-back Spanish style. They do a cracking selection of girls' clothing, and apparently some boys too, but locating any of that is like finding a needle in a haystack. The girly stuff starts from just £1.49, which is really cheap and there are plenty of items to choose from.
The majority of parents like to dress their kids in age appropriate clothing, but without depriving them of the latest trends. I think Mango covers those two important factors. It's not easy buying clothes for young teens but I reckon Mango have sussed it.
Here's what we like in the sale: Glitter Batman T-Shirt* was £9.99 now £4.99, Star Print Leggings* was £9.99 now £4.99, Ribbed Panel Shirt* was £12.99 now £4.99, Textured Sweater* was £16.99 now £4.99, Sequin Mask T-Shirt* was £9.99 now £4.99 and Glitter Disney T-Shirt* was £12.99 now £3.49.
You can Click and Collect your Girls' Clothing bargains for FREE or pay £2.95 to have them delivered to your front door. Spend £30 and you can get FREE delivery.