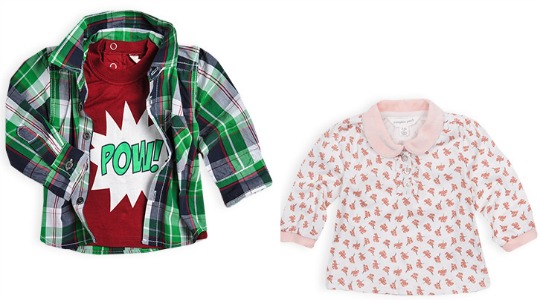 Is there ever a time when Pumpkin Patch doesn't have some sort of sale on? The answer to that is no! We don't care though, as long as they churn out the bargains, we will keep buying them. Afterall, the quality definitely outweighs the price. Just now they are running a Final Clearance on Winter Clothes. Items start from just £1 and some are even included in the "buy one get one half price" offer. Plus enter Pumpkin Patch promo code UKWCL3 to get FREE delivery on your order. There's no minimum spend.
There's a total of 863 items of clothing, footwear and accessories to choose from that are £5 delivered and under. You can really replenish those children's clothes with these prices.
To be honest I would list everything in this event as everything is incredible value. I don't have the time to so here's my top picks out of the Pumpkin Patch Final Clearance:
These Girls' Rose Snuggle Boots* were £21 and now £5 delivered, Boys' Shirt with Mock Tee* was £17 now £5, Girls' Quilted Vest* was £17 now only £5,  Boys' Core Drill Pull on Pants* were £17 now just £5 and Boys' Three Pk Socks* were £6 now £2.
Remember to use the promo code when at the checkout to get FREE delivery on your order!