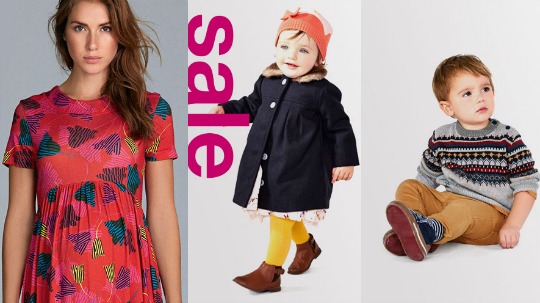 Mamas & Papas have taken an Extra 25% Off Sale Clothing this week as their final reductions in the January Sale. This means that there are some great prices to be had, not just on Baby and Kids Wear but also on Maternity Clothing.
Added to this is an extra offer where if you spend £50 in the Sale you get e-mailed an e-voucher for £5 to spend in February. That's a nice little bonus!
With these extra reductions the Maternity Wear prices start from £5.25 for Maternity and Nursing Tops, Jeans start at £6.75, and Dresses are from £7.50. Those are some of the best prices I have seen for Maternity Clothing.
Kids and Baby Wear starts at an extremely low 68p! Accessories are the cheapest items, but tops start from about £3, and dresses and trousers can be found from about £4. There are multi packs of bodysuits and sleepsuits that have huge reductions on them - a pack of 4 bodysuits for £4.50 is cheaper than the supermarkets, and is also about 70% off their original price!
You don't need to add a code for the extra 25% off, the prices shown have already had the extra discount taken off them, but this promotion ends on Wednesday, so don't wait too long to order.
You can Click and Collect for Free, or home delivery charges are from £3.95, and if you are near a store the extra 25% is in stores as well as online.
I think the maternity clothing offers the best value of the lot, so that's good news if you are expecting a baby, and if you know someone else who is then pass it on!