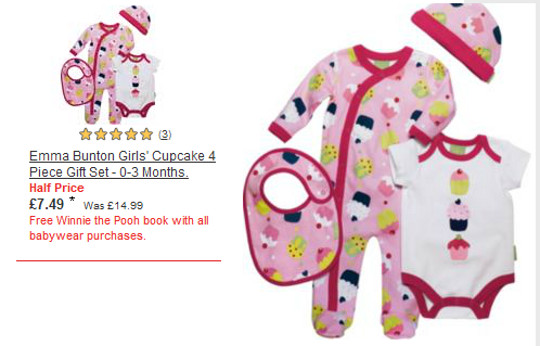 The absolutely super sweet and gorgeous Girl's Cupcake 4-piece gift set from Emma Bunton's collection is on offer at Argos for £7.49 instead of £14.99. If you spend over £20, you can take another £5 off with the code CLOTH5, and with each purchase of the gift set, you'll also receive a free Winnie The Pooh Book.
This is a really sweet four piece set, consisting of a sleepsuit, hat, bib and bodysuit. It's 100% cotton which makes it breathable and ideal for soft and tender new born baby skin.
One of the reviewers say that the quality is so good, she would happily pay full price for it, despite having bought it for half price herself.
On one of the Argos pages it says about the free book, but there's no mention of it again, all the way to the basket, so I assume they just add it to the order? Either way, if you don't receive it at the counter, ask for it, since they do advertise it!
Thanks to Wadjet at HUKD