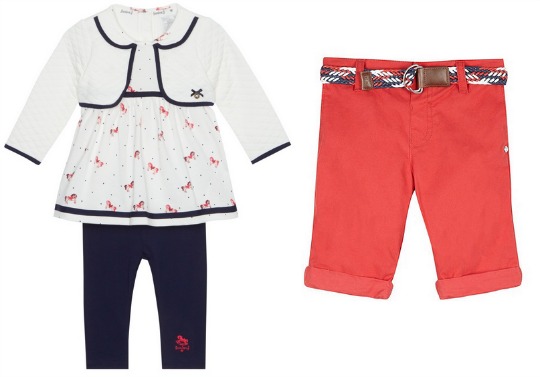 Debenhams have a new Sale Event on. They are very frequent but we know the High Street is fierce for competition just now and as long as we are saving the £££'s we don't care.  They have up to half price off Selected Baby/Children's Clothing. If you are needing those summery bits for the kids you might as well get them with money off, right?
Here's my top picks for baby: Rocha John Rocha Designer Babies Checked Shirt, T-Shirt and Jeans Set* was £28 -£30 now £14 -£15, BlueZoo Babies Taxi Blue T-Shirt* was £7-£8 now £3.50-£4, Jasper Conran Babies Tunic and Leggings Set* was £22-£24 now £11-£12 and Baker by Ted Baker Panda Top* was £14-£16 now £5.60-£6.40.
For Boys: J by Jasper Conran Red Belted Shorts* was £14-£15 now £7-£7.50, BlueZoo Boys Black Skate Shoes* was £9-£12 now £4.50-£6 and John Rocha Super Skinny Jeans* was £18-£23 now £9-£11.50.
Girls: Mantaray Pink Lemonade Stand T-Shirt* was £8-£9 now £4-£4.50 and Mantaray Short Dungarees* was £16-£17 now £8-£8.50.
Collect your order for FREE or pay £3.49 for delivery (FREE when spending £30 or over).