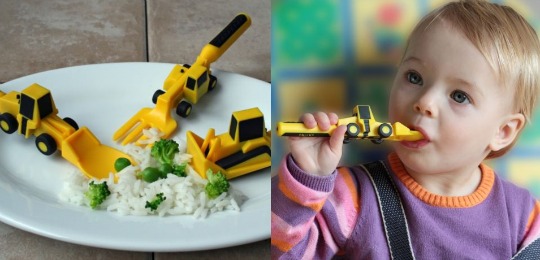 How many of us have made encouraging noises in an attempt to get our little darlings to eat our latest offering? Well, this may no longer be required with the super cool Constructive Eating Cutlery Set.
I think this is by far the coolest cutlery set I've came across and only wish they'd had it when my daughter was younger. In fact never mind that, wish they did an adult version!
While we can't promise little ones will now eat everything on their plates, broccoli will always be a hard sell, this is certainly not going to hurt!
You get 1 knife, 1 fork and a pusher and not only does it look ace, the reviews are pretty impressive too. One reviewer commented :
Fantastic idea, recommended to me by a friend. My little one loves them and it has encouraged him to eat more by himself although as he is quite small the utensils are still a bit big for him to handle. I was dubious as its not exactly cheap but I don't regret buying this set. My only advice is to make sure you have a dish brush for cleaning as food gets stuck in between the truck parts on the handles.
It's not the cheapest cutlery set we've ever blogged but the coolest? I think so!
There are two sellers who have this for sale for a few pence cheaper but we've went for the seller with 100% feedback and that's fulfilled by Amazon themselves. It's of course up to you who you choose but for the sake of a few pennies, we like the 100% feedback!