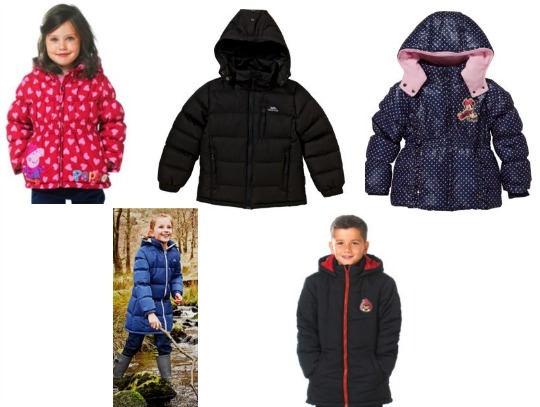 Head over to Argos right now folks as they have some great prices on kid's winter coats and jackets starting at just £8 with the Trespass Pink Sooki for girls* and the Black Mooki for boys.*  With character names like Peppa Pig* at £9, it's the same price for the Trespass Boys' Black Puffa* and the Minnie Mouse Puffa* is £9.59.
These are all included in the back to school range and not only are they reduced, you can also take another 20% off using the code SCHOOL20.
You will see the reduced price on Argos but to get the prices I'm quoting you have to use the code SCHOOL20 for a further 20% off. You use it in the promo box at checkout if ordering online for home delivery or quote it at the till when you're collecting your reserved items in store.
I really like the Trespass Girls' Navy Tiffy Puffa Jacket*This one is down to £11.24, quote SCHOOL20 in store and it's £9! Bargain! If you're looking for the Angry Birds Puffa, that's here*.
Go quickly on this this, there's a lot of availability at the minute but it's not going to stay that way for long! Make sure you see what's still available in your area from our school uniform blog yesterday too, prices from just £1.28*. 
It's worth noting that if you're reserving online to collect and pay in store, you can't use the quick pay to receive your items, you have to go to a manned till point and quote the code to receive the extra 20% discount. This code is valid until September 9th.
The Crayola Pencil Design and Colour Set* is £14.99 but if you buy selected back to school items you can add that to your order and get 50% off, making it £7.49 too.
Collection from Argos is free and home delivery will add £3.95 to your total.