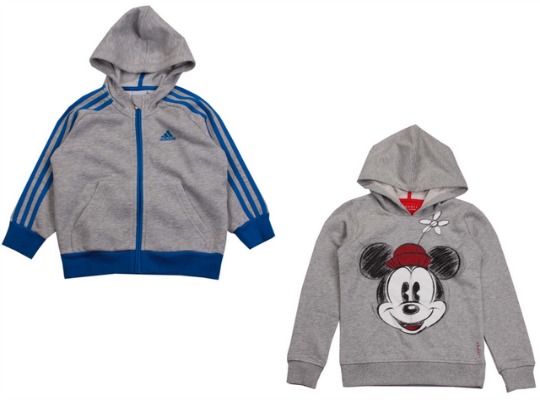 Adams Childrenswear still exists. I remember a time when there was an Adams on every High Street. When I had my eldest son, James, I mostly bought his clothes out of there. Then by the time I had my second child they had gone to shop heaven, but now it seems they have been reincarnated into an online retailer that sells an array of brands like Chipie and Adidas. There's a clearance section to with items starting from just £1.75.
The Adams Clearance section is pretty good and I can see many great buys. The only downfall is sizes are limited and are completely dependant on what you opt for. When I find special offers I always think would I buy it for my kids? Would I recommend it to a friend? And Adams ticks all those boxes.
Here's my top picks from the Adams Childrenwear Clearance: Esprit Minnie Mouse Hoody* was £27 now £13.50, Adidas Boys Hoodie*was £21.99 now £10.99, Legowear Lloyd T-Shirt* was £14.99 now £7.50, Black Tulle Skirt* was £12.99 now £6.99, Baby Girls Outfit* was £10.99 now £5.50 and Legowear Socks* was £9.99 now £4.99.
Delivery costs £4.99.