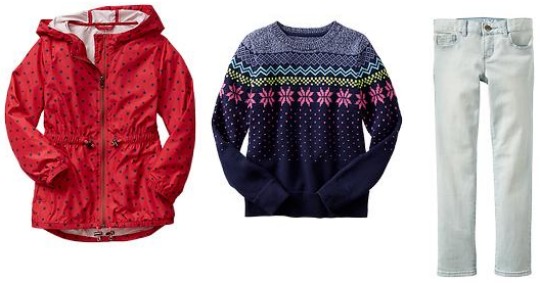 Are you a fan of GAP but find them a touch too pricey? If the answer to that is yes then today is your lucky day. GAP Kids have an up to 75% of sale on, and items start at only £1.99. Most of it is the last of the summer stock but there's pieces that would be wearable all year round. There's reductions on maternity wear* too, so if you are in need of some then check that out.
I like GAP, and I find their clothing of good quality. I have always thought them to be too expensive when compared to other high street clothing brands. I tend to stock up when they have a sale on. This sale has plenty to offer, read on to find out what goodies I have found for you.
For boys, these 1969 straight jeans* are a fantastic buy at only £7.99, these had been £19.95. What a reduction! They are absolutely fine for the winter and I will be buying a pair for my eldest to go with his new winter boots. I found this fleece scarf* at only £2.99 that was originally £7.95.
And for the girls, the Fairisle sweater in the picture above is just so meant for the lead up to Christmas. It's just so pretty. It's now only £9.99 and had been £22.95. The windbreaker in the Starry design is so lovely that I wish they had it in my size. It was selling for £29.95 and is now only £14.99.
Unfortunately, GAP are a bit behind with the times and there's no store collection available,however, delivery is at £4. Sizes available across the whole kids clothing range span from four to thirteen years old, so their something for everyone. Why not take a look, who knows what bargains you might find?