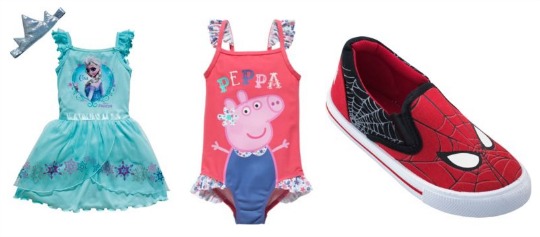 If you are looking for some bargain clothing then Argos have reduced some of theirs by up to 70% in their summer sale. There are clothes, shoes and accessories at really low prices, including loads of character items so it's worth taking a quick look.
Here are the best buys I can see so far:
Disney Frozen Jewellery or Hair Accessories - was £3.99 / £4.99, now £1.99
Disney Frozen T-shirt - was £5.99, now £2.99
Thomas T-shirt - was £5.99, now £2.99
Disney Bibs, 3 Packs - was £4.99, now £3.34
Peppa Pig / Thomas Pyjamas - was £5.99, now £3.99
Disney Frozen Nightdress / Dress Up - was £9.99, now £4.99
Peppa Pig Swimsuit - was £9.99, now £4.99
Spiderman Canvas Shoes - was £12.99, now £4.99
Disney Sofia Back Pack & Umbrella Set - was £19.99, now £7.99
Trespass Puddle Suits - was £26.99, now £8.09
Trespass Waterproof Jackets - was £29.99, now £8.99
There are some other items in the clothing sale, and most of them have good stock levels. The ones that were already reduced have fewer sizes in stock, but others are available all over. For each item you need to use the drop down size box to select the correct size.
Things like the canvas shoes and swimsuit are great cheap buys for the summer, and it always pays to buy clothes out of season to get the best bargains - the rain jackets and puddle suits are great prices if you can get them now and put them away for the autumn.
As always, Argos offer their free reserve and collect service, or home delivery charges are from £3.95.