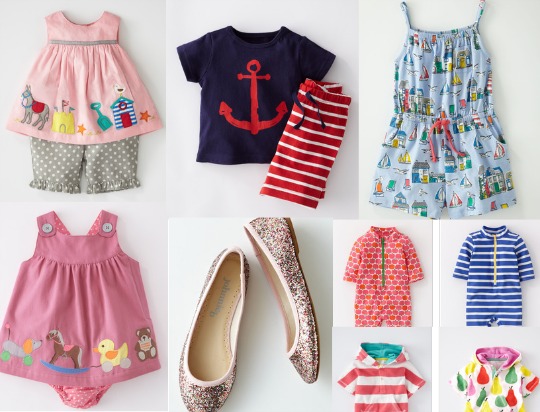 We blogged this last week but since today is the last day to grab free delivery on everything from Boden, including sale items, I thought it was worth another mention.
That free delivery code you need is H4Q3.
I'll tell you what I like about the Boden sale. While other retailers are trying to get rid of winter or old stock, Boden have some seriously cute summer items on sale right now. As is often the way nowadays the "up to" part in the 60% sale is annoying but that aside,  there are some really good prices on there at the minute.
The baby dresses* start from £5.60 but my favourite is the Appliqué Button Pinnie* which starts at £9.60 increasing to £10.40 depending on your size and has been reduced from £24 to £26. At under a tenner delivered I think this is a steal and that bit different from Next or Debenhams for any holidays coming up.
I never have a problem falling in love with Boden clothes but sometimes do baulk slightly at full price if I'm honest - £40 for an "everyday" dress for my 7 year old is not the norm in this house! The sale just makes these prices so much more attractive.
Baby Boden covers 0-3 years, Mini Boden is 1 ½ to 12 years, while Johnnie B covers the 9-16 year olds.
To grab that free delivery, simply pop H4Q3 in the box at checkout, but don't forget it expires tonight.
You'll find that Boden voucher code over in our voucher section.