50-70% Off Entire Site Plus FREE Delivery (With Code) @ Pumpkin Patch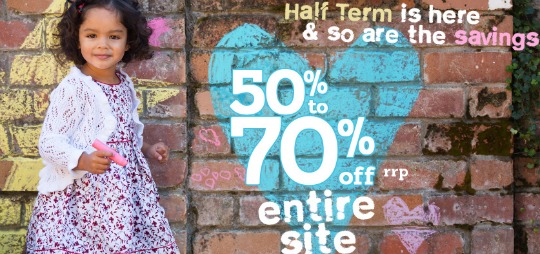 Pumpkin Patch is fast becoming one of those retailers that seem to hold a lot of sales. That kind of tarnishes our image of getting a bargain. However, after having a look on their site today, I can tell you that there's A LOT of bargains to be had. The ENTIRE site has a minimum of 50% off of the RRP. Use promo code UKFEN for FREE delivery, with no minimum spend restrictions.
I honestly don't know where to start! There's so much that you can get at rock bottom prices from Pumpkin Patch. I could seriously part with a lot of money on here today.
If you click here* you can find the full range of girls' clothing. These Spotted Gumboot Wellies* have been reduced from £16 to £8 and they are just adorable. This Fur Lined Jacket* is another fantastic buy, from £30 to just £15.
For boys, click here*. This Mohawk Sherpa hat* is very funky and will encourage little boys to keep it on their heads. It was £9.50 but is only £4.75. For £13.50, you can get the Lined Bush Jacket*. It's very smart and looks ever so cosy.
Do not forget to enter promo code UKFEN to get FREE delivery on your order.