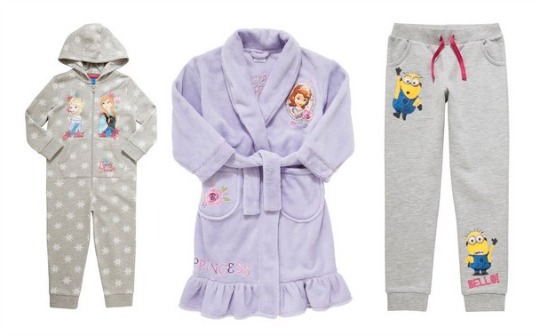 The Tesco Clothing sale seems to be a permanent feature these days, but every now and again they do an offer which makes it all so much better value. This week selected sale items have an extra 10% off the sale prices that are shown, so the bargains have got even cheaper!  The extra 10% doesn't come off until the checkout stage, but it comes off automatically with no code needed.
There are nearly 700 items in the sale for children and babies with prices starting from £1, or 90p with this extra 10% offer. Sizes are limited in some sizes, but if you search by size you could find some great clothing at teeny tiny prices to stock up for baby or the kids.
There's a 2 pack Of Kitten Pyjamas that work out at £3.60, the Frozen Dressing Gown is now £5.40, and Minion Joggers for £4.05. There are lots of character items from Frozen, Doc McStuffins, Winnie The Pooh, Disney Princess, Spiderman, Marvel and loads more. For babies the multipacks of bodysuits and sleepsuits work out at great value, with packs of 5 bodysuits from £3.60!
Although some of these sale items have been hanging around for a while, others have only recently been added, so have much better size availability.
Although I have only looked at baby and kids clothing, the offer is on ALL sale departments, so it includes Womens, Mens, Maternity, Plus Size, Petites, and more.
The extra 10% off is on until this Sunday 22nd, so if there is anything you need now is the time to grab it. H0me delivery charges are from £3.95, or you can use the Free Click and Collect service as well.