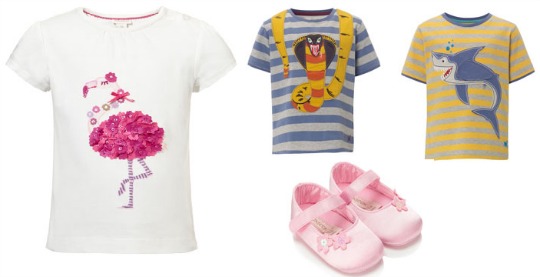 Update : Until Midnight tonight (Sunday) there's an extra 20% off all sale prices! The discount is automatically applied at checkout.
There's no UP TO in this Monsoon sale. EVERYTHING is 50% off. That's the way to do it. Childrenswear items start at just £3. Monsoon childrens' clothing is really good quality, and I really rate it. Do I ever buy it full price? Oh heck no! I wait for these tremendous sale events that they offer.
We found these gorgeous items in the baby girl section: This Flamingo baby girls' top* was £12, now only £3. It's selling quick,so if you want it, don't hand about. These very pink Baby Mariella trousers* are a great buy too at just £3.50, reduced from £12.
For baby boys, there's a poor selection. Monsoon definitely cater for little girls more so than boys. I do really like this Shark Flipbook T-shirt* at £9. It had been £18.50! Yikes!
The girls' section is brimming with goodies. This Rara Check Skirt* would be gorgeous with thick woollen tights and chunky winter boots. It's now only £12, reduced from £25. This Sabila Sequin top* is begging to be worn for a Christmas party. It's down from £40 down to £20.
For the boys', this is the only thing I like, the Snake T-shirt* at £10.50. To say I am a little disappointed in the amount of boys' clothing in this Monsoon sale is a gross understatement.
Monsoon FREE delivery to their stores, or pay £3.95 to have it delivered to your door.