3 For 2 On Kids Wear @ JJB Sports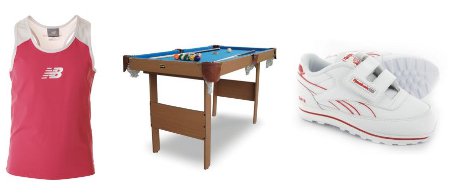 JJB Sports has a 3 for 2 offer on selected lines of children's wear, shoes and accessories, with the cheapest item free. There are quite a few spring and summer items, and if you're a really organised frugal parent, you can buy a size or two bigger to keep in the cupboard for next winter.
In the 3 for 2 offer, you'll find Junior Footwear, Children's Footwear and Infants and Baby Footwear. There's girl's and boy's clothing as well as infant and baby clothing, and then there are also some great children's (and adults) sporting accessories.
Among the sporting accessories I found this Riley 4ft Pool Table for £39.99, down from £79.99 and the 3FT Mini Pool Table for £29.99 instead.
In the clothing and shoe departments there are some fab bargains, like the New Balance Racerback Top for £5, Reebok Classic Renaissance World Cup England Trainers which are now £9.99 instead of £19.99.
If you're looking for summery slip ons for your little ones – and you can stand the look of it – the Summer EVA Sandals which look an awful lot like Crocs, they are available at just £3.99.
The sale is on till the 23rd of February, but stocks might not last that long!