20% Off Kids' Clothes (Including Coats) @ Marks and Spencer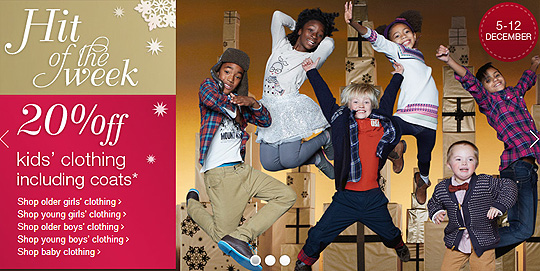 If your child(ren) needs a few more bits and pieces to complete their winter wardrobe - or even a completely new one, they do tend to grow like weeds every now and again - then you should pop over to Marks and Spencers before 12 December: there's 20% off lots of lovely kids' clothing items.
I've always found hopping for clothes in Marks and Spencer a strange experience: there's always LOTS of lovely things for kids - trendy and stylish and always good quality, but their clothes for adult women can be really hit and miss! I always see plenty of rather nice looking clothes for men though, it just seems that the women's department is stuck in the frump ages - although, you can't beat their bras and knickers.
This year's kid's clothes offerings are no exception (in fact, they've been consistent for the last 18 years - I always loved buying clothes for my children in M&S) and there's plenty for kids of all ages and both genders, from babies right through to teens, and includes coats too (buy at least a size bigger than you need and it might, if you're lucky, last you two winters).
Marks and Spencer are also offering free UK standard delivery; they say it's for a limited time only, but I can't find anywhere to say exactly when they're going to stop it.  You don't have to enter any codes to get it, it'll automatically be deducted from your order total when you check out.
Thanks to thecooldude at HUKD