20% Off Everything Plus Free Delivery @ Pumpkin Patch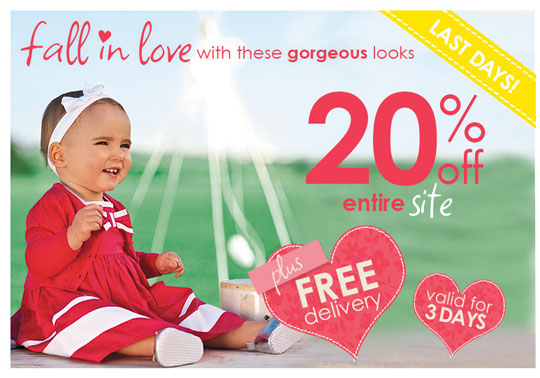 If you get yourself over to Pumpkin Patch you'll not only be able to save yourself 20% on absolutely everything, but you'll also bag yourself free delivery too.
My cousin dressed both her kids in all things Pumpkin Patch when they were small - which is a fair few years ago now - and I distinctly remember how gorgeous they were (the clothes...oh okay, and the kids) and how they just oozed quality.  As a result, they lasted a long time, survived being washed over and over, and she was able to sell most of the items she'd bought on eBay for a pretty good price.
Absolutely everything on the Pumpkin Patch website is included in the 20% off promotion, so the world really is your Pumpkin Patch oyster - just hurry up, because lots of things are going out of stock fast and the promotion ends at midnight tomorrow (14 February).
To make sure you get that 20% off your order, plus free delivery, please remember to enter promotion code UKVL into the relevant box at checkout - otherwise you'll end up paying full price for everything, and that would just be rubbish!
Thanks to joshtbh at HUKD