20% Off Baby Clothes @ Tesco Clothing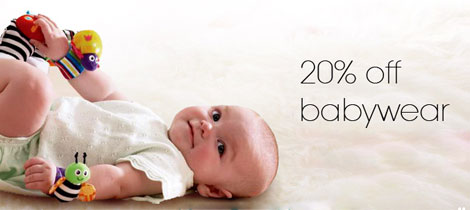 Tesco Clothing have taken 20% off all their baby clothes, which is great for me as my cousin's wife gave birth to their first baby on Monday, so I'm looking for something pretty and girly for my new first cousin once removed (at least I think that's what she is to me).
Her name is April Rose - how pretty is THAT! And she's very pretty too, but maybe I just have a family bias.
Baby clothes are almost irrestible and even though my eldest will turn 16 in a few weeks and the baby, at four, isn't the baby any more, I still can't help but stop and look at tiny tot clothes when I'm out an about.
So now I have a valid excuse to REALLY look and buy a few bits and pieces, I feel a bit like a kiddy in a sweet shop.
This little pink Spot print sleepsuit is just CUTE and is £4.80 instead of £6. I'm going to have a hard time deciding what to buy - which will probably mean I'll end up sending a huge clothes parcel!
I love this little cardigan too, but sometimes it's better to buy bigger things so that new parents have clothes ready and waiting for their baby to grow into - which never takes very long.
There are so many lovely outfits for newborns and little boys and girls, I think it's best if you go and have a look for yourself!
If you spend over £50 then delivery is free, otherwise it will cost £3.95.
Thanks to marik1234 over at HUKD!