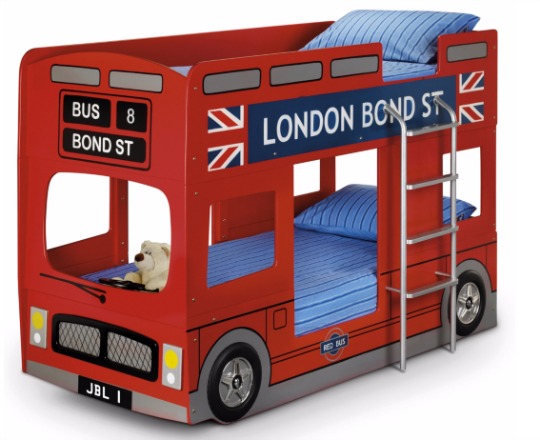 We have featured these London Bus Bunk Beds before, and although they look fantastic the price was a little high. Although Asda George was still the cheapest place to get them at £369, you can now get a further 20% off with the code 20FURN, meaning that they are now £295.20!
You do need to add an £8.95 delivery charge on top of that, but this still makes it more than £60 cheaper than anywhere else! 20% off doesn't seem like much at all sometimes, but when it's a big ticket item like this it works out to be a whopping saving!
This bed comes flat packed for you to assemble at home, and will fit two standard single mattresses, which are not included in the price. As well as looking like the iconic red London Bus it even has a steering wheel on the bottom bunk so that the kids can pretend to drive off on an adventure. It all seems very Harry Potter to me!
Asda aren't very good about specifying when offers like this one will end, so I don't know how long you have until the 20% off code will run out. These beds were also out of stock for quite a while, so now they are back and cheaper than ever don't delay if you want them!
Remember to add the promotional code 20FURN to get the reduced price!