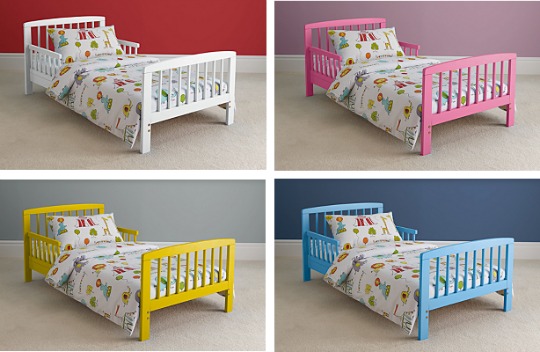 If your toddler is ready to move on to a big bed many of us choose a toddler bed rather than a single bed, and there is a cracking bargain on Kinder Valley Toddler Beds at the moment. At Asda George online there is £10 off and free delivery with the code DELFREE, so you can get a toddler bed delivered for only £59!
These are wooden beds made from pine, rather than the plastic character ones. They are lower to the ground than single beds making it easier for toddlers to climb in by themselves. They also come with guard rails to prevent children falling out, so you don't need to buy these separately.
What really caught my eye is that there is a choice of 8 different colour finishes so that you can order one to match the bedroom, or to add a splash of colour. You can choose from Natural Pine, Yellow, Dusky Pink, Pink, White, Navy Blue, Blue, or Grey.
These beds are suitable from 18 months until around 5 years of age, depending on the child. If I hadn't keep the toddler bed that my eldest used I would be getting one of these, in one of the blue colours I think, as it's about time for my youngest to leave his cot behind.
Remember to add the code DELFREE for free delivery on furniture at the checkout.