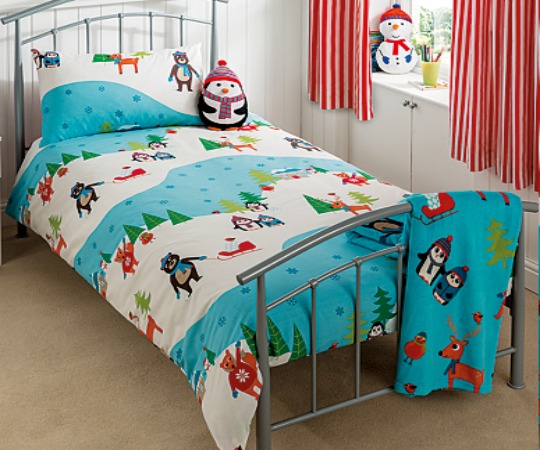 For those of you who missed out on the Mr Men Christmas Duvet Set, this Snow Scene Christmas Single Duver Cover Set is £10, but you can get it for £7 by using the code KIDS30 to get 30% off.
This is a really cute design featuring penguins, reindeer, robins and bears all playing in the snowdrift. It's fairly gender neutral on the colouring so it could be used for girls or boys. It's also pretty good value for a set that you can bring out year after year to get the kids in the festive mood.
You can get this delivered to store for FREE if you have time to collect it, or Home Delivery for Christmas will cost an extra £4.50 as the standard service will not get it to you for Christmas. If you are putting it away for next year and there's no rush then the standard delivery should get it to you between Christmas and New Year.
There is no information about whether this set is cotton, polyester or a mix of both unfortunately, but one of the reviews mentions that although it is not 100% cotton that it is soft and washes well. In fact all 3 reviews give it 5 out of 5.