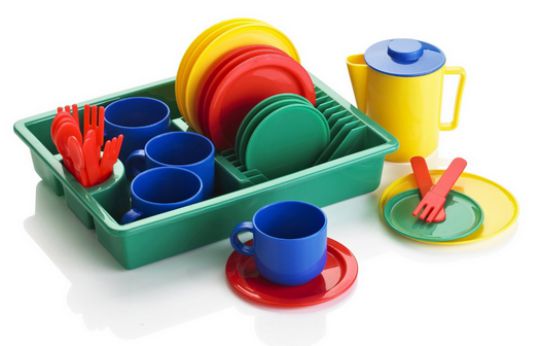 This KiddyPlay 29 Piece Play Dishes Tea Set has a big 60% off it's normal price of £14.99 and is selling for just for £5.99 from Amazon seller Net Price Direct. There is a £1.95 delivery charge so that makes it £7.94 including home delivery and I think that's a great price for everything you are getting here.
This would make a brilliant addition to a play kitchen, as although you can tea sets anywhere this one includes an awful lot more than your ordinary sets! The tea set itself includes four each of dishes, side plates, cups and saucers, as well as four knives, spoons and forks. Then you also get a tea pot with a lid, and a dish drainer that will store everything neatly inside it!
There's really no excuse not to have a doll's tea party now, and with this set the children can also pretend to wash up afterwards as they copy Mum and Dad. If your children are getting a play kitchen or play house this Christmas then this would make a great stocking filler to go with it, and at this price it's a bargain.