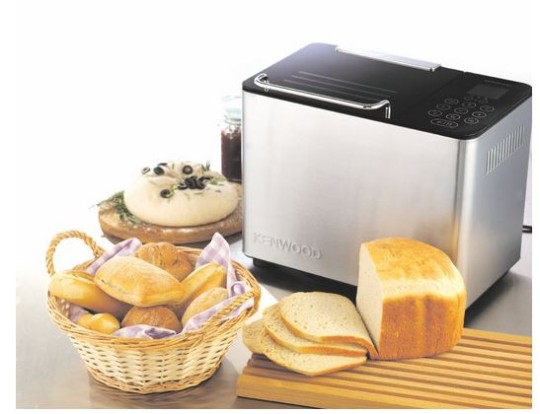 Amazon have the Kenwood BM450 on offer for £89.50 reduced from £139.99. This is a price match with John Lewis, but everywhere else its still over £100. 
Is there anything better than waking to the smell of fresh bread and freshly brewed coffee in the morning? Well, if the sun's streaming in through the window, it's a perfectly wholesome trifecta, just about. It certainly starts the day on the right foot.
One trick to actually getting use out of your breadmaker, however, is to never put it away. Don't put it in the cupboard. Make a home for it on your counter - which means getting a pretty one goes a long way.
The Kenwood Breadmaker has 15 programmes for bread, doughs, cakes and jams, and a rapid bake setting for a fresh loaf of bread in just 58 minutes. The additional 5 "personal" programme settings allow you to set your own timings for each of the stages involved in bread making (pre-heat, kneading, rising and baking). You also get to choose between large, medium or small loaves (500 g, 750 gram or 1 kg).
The BM450 has touch sensitive controls and an LCD panel, which are easy to wipe clean. The ingredients dispenser has a 125 gram capacity and automatically opens and dispenses ingredients at the appropriate time during the bread-making cycle. This is really awesome as it means you don't have to wait for the beep to add your extra ingredients, taking yet another step out of the process.
Crucially for the early morning bread lover, there's a 12-hour delay timer, 1-hour keep warm function, convection fan for crisper loaves, power failure memory and the Kenwood kneader, all of which makes it a really easy machine to use, and versatile too.