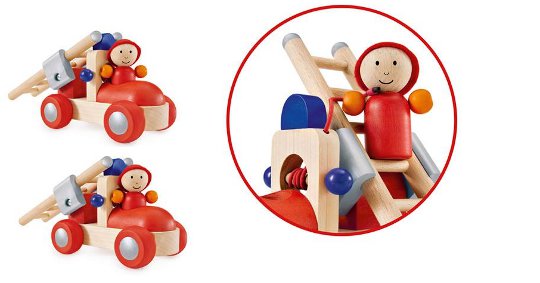 There's almost a third off the gorgeous wooden Fireman Rosso Rasante toy by Selecta at VUPBaby. This is normally £29.99 but currently selling at £20.99. The last shipping date for standard delivery to a UK address from VUPBaby is 20 December, so you've still got time to pop this under the tree.
Suitable for tots from 12 months onwards, this lovely German made wooden toy has a pull up ladder, a roll out hose and a little wooden fireman figure to put out the fire.
I love this toy. I think it strikes a perfect balance between understated natural colours of wood and bold and bright red and blue, so that it's not over stimulating, but not boring looking either.
It doesn't have all the bells and whistles of sirens and all that either, which means your little one can use their imagination and "woo woo" their way around the house themselves.  Additionally, it doesn't require batteries, which is a great added bonus for your sanity, your pocket and the environment.