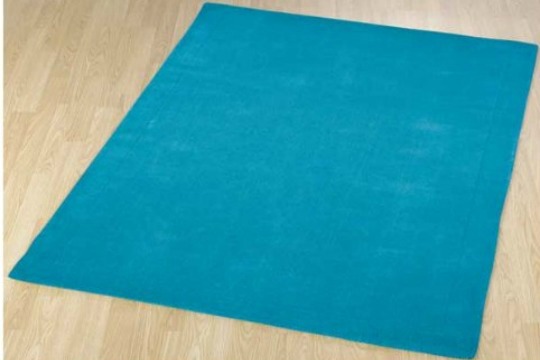 Wow! What can you get for £5.99 these days? A tiny Lego set? A Minecraft Poster? How about this Fiesta Blue Colourmatch 150 x 100cm Rug from Argos? It's just screaming out for a little boy's or girl's bedroom. Of course if you want it elsewhere in your house it'll be fine. £5.99 for a rug that's bigger than a doormat is very impressive.
The good thing about this Fiesta blue Rug is that it's part of the Colourmatch range which means you can easily pick up co-ordinating items.
The rug is made from 100% Polypropylene. There's certainly mixed reviews on this but I think for £5.99 you aren't going to expect a full on shag pile, are you? It will be thin and most likely appropriate for bedrooms rather than a living room. Of course, that depends on your personal taste.
It is plain blue in colour and it doesn't feature a pattern at all. To clean it Argos recommend professional cleaning, but I'd say whizz a home carpet cleaner over it. It's only £5.99 so I cannot imagine you will particularly wanting to go to the expense of cleaning it professionally.
You can reserve and collect the rug for FREE from your local Argos.